Internet Cafe
Open hours: 9:30am-4:30pm Monday to Thursday (closed Friday)
The Internet Café @ ESNLC offers fast and stable internet at affordable rates. the café has 4 computers available all of which are connected to printing services. A wireless connection (WiFi) is easily accessible if you prefer to use your own device such as an iPad, Tablet, Laptop or Smart Phone.
Light refreshments such as tea and coffee are available for your enjoyment.
If you are not too familiar with computers, scanning or printing, friendly help is on hand. Our minimum charge is $2. Printing charges are additional to computer use charges at 20c per page.
Before using the equipment you need to register in the visitor's book by writing your name, email address and the time of your arrival. Once you finished, please enter the time and make payment to a staff member. If you require a receipt, the staff member can prepare one for you.
Prices
Please find below our current prices. If you require other services that are not listed here, just ask a staff member – we may be able to meet your needs.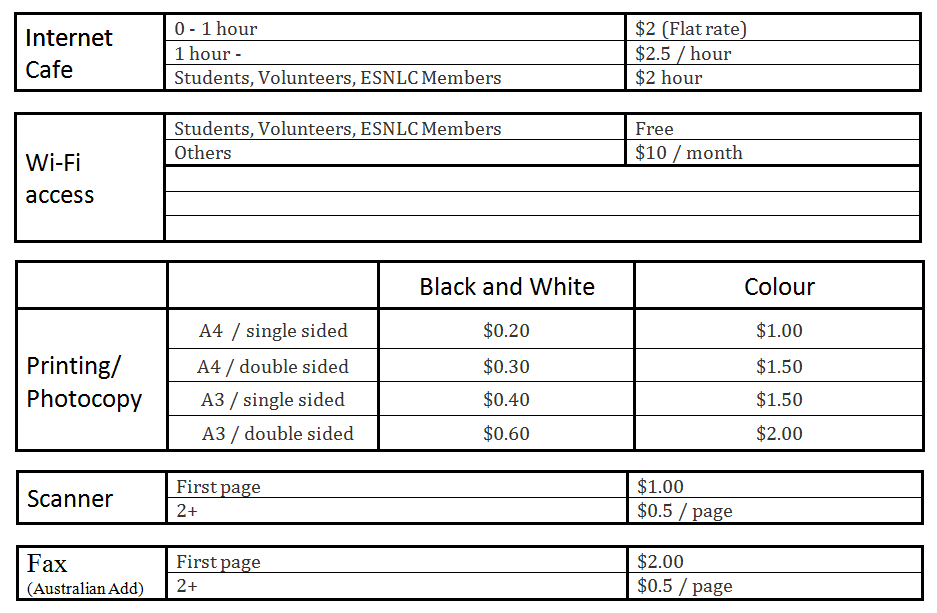 Please note: Users must adhere to the ESNLC's 'internet conditions of use' when accessing the internet, even with their own equipment. Please do not save anything on the computers as it will be deleted.