Song site 11 – The Rakali Hop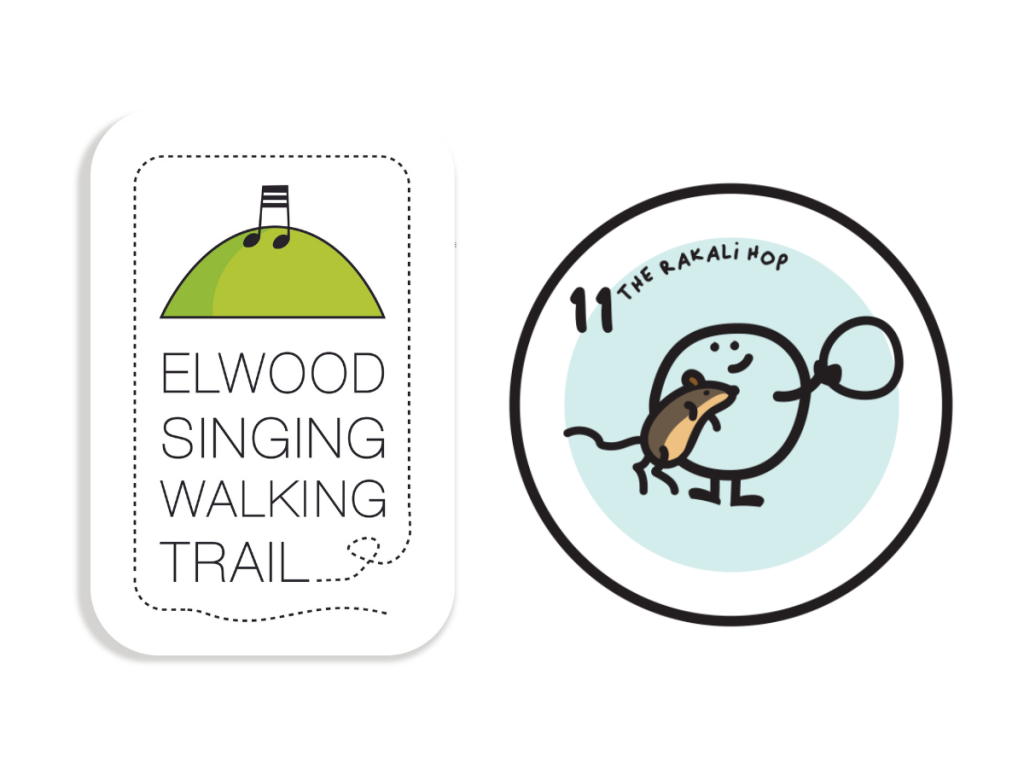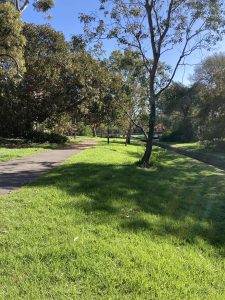 Access this song's Sheet Music
Listen to the recording and see the lyrics
Where are we?
Elwood Canal Linear Park, Foam St footbridge
What are we looking at?
We are in a lush green park surrounding the upper reaches of Elwood Canal. This is where locals enjoy the delights of their very own creek, complete with grassy banks, footbridges, shady trees, a meandering path, and plenty of wildlife.
The history of Elwood is deeply intertwined with the history of Elster Creek, Elwood Canal, and the large coastal wetlands once known as Elwood Swamp. It is a complex story, involving frequent floods, the draining of the swamp, and the construction of a canal emptying into Port Phillip Bay. Water management strategies are now in place to allow for the safe use and enjoyment of this much-loved local waterway. Neighbourhood groups are working to protect the environment and local birds such as the Tawny Frogmouth. Elster means 'magpie' in German, and numerous magpies have always been seen and heard around here. But there are other, quieter local residents as well… Rakali!
What song are we singing here?
Get ready to sing The Rakali Hop! Do you know what a rakali is? Rakali have been seen swimming and hunting in Elwood Canal, and they also live around St Kilda Pier. They have been described as "Australia's otters", and are also known as Native Water Rats. Rakali live along the waterways of Australia's eastern seaboard, and in parts of Western Australia and the Northern Territory. These semi-aquatic rodents can be black, brown or grey, with thick fur, a white-tipped tail, and partially-webbed hind feet. They are mainly active at night, eating all sorts of small animals, fish, and crustaceans. Rakali are intelligent and adaptable – they have recently been observed in WA killing and eating the dreaded Cane Toad (carefully avoiding the poisonous bits!)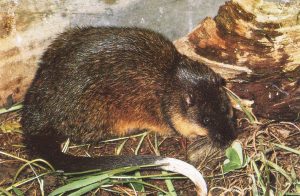 In honour of this lively local inhabitant, we have created The Rakali Hop. Jeannie Marsh and Matthew Lovering wrote this song to get kids and kids-at-heart hopping, jumping, and twisting to a 1950s-style dance number celebrating the animals of Elwood Canal. Join in with the movements: tidy up your whiskers, have a little scratch, and bop around, strumming your air guitar to this bouncy number!
While we are at this peaceful spot, let's honour the German project that inspired Elwood Singing Walking Trail: the Singender Wanderweg in Königsbronn. Jeannie Marsh visited this delightful singing trail in 2018, and decided to work with Elwood Community Choir to create a similar trail in Elwood. You can read all about it in our Further Information section, in German and English. We thank our German friends for allowing us to take their wonderful idea to the other side of the world!
So let's sing a song from the Singender Wanderweg that celebrates the joys of singing together under the trees!
Access this song's Word Sheet and Sheet Music
To learn more about the locations, people, and history of Elwood, the songs, and the Elwood Singing Walking Trail project, please go to Further Information.
We would be grateful if you could please complete our short survey. Access the SURVEY HERE.